Heat pumps, solar panels and electric cars. Such solutions will have only a limited effect when you consider that one-third of total CO₂ emissions comes from industry. Salt producer Nedmag is now bucking the trend and switching over to hydrogen. But is industry actually able to make the transition to green energy?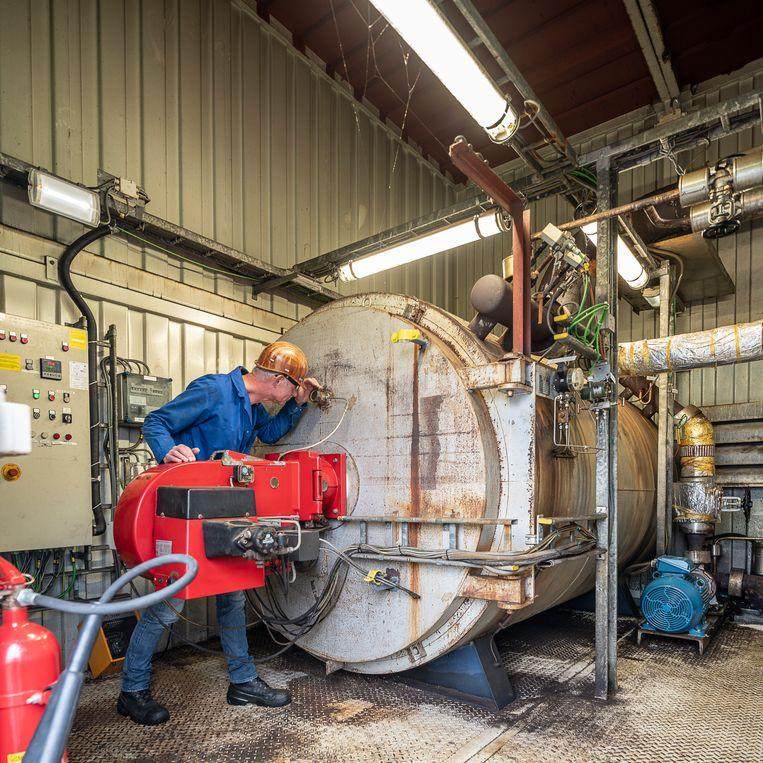 Behind the low factory buildings of salt producer Nedmag, close to the golf course on the outskirts of Veendam, managing director Bert Jan Bruning walks towards a blue steel structure built from shipping containers and opens the door. The building houses an ordinary industrial boiler, about two-and-a-half metres high, used in one of the drying processes of magnesium salt.

Bruning points to the appliance attached to the end of the boiler. It has the shape of a leaf blower, the colour of a fire engine and is the size of the rear seat of a small car. 'That is the burner. It only runs on natural gas and we are replacing it in June. The new one works on both hydrogen and natural gas.'

It might seem a minor operation, but for Nedmag it is the beginning of a major development. The company has been extracting magnesium salt from below Veendam since 1981. The raw material is used in food supplements for both humans and animals, but also in the production of refractory bricks. For drying the salt and especially for firing the bricks, Nedmag needs 50 million cubic metres of natural gas annually and wants to substitute this with green hydrogen.
'The process should be completed by 2035,' predicts Bruning.
Everything that is said about the future of the hydrogen economy is on a grand scale. Recently, on the other side of the country in Sluiskil, fertiliser producer Yara reported that it is switching over to green hydrogen for a small portion of its production process. This will be generated from wind energy. If the whole plant were to follow suit, on its own Yara would need one-third of all wind energy then generated in the North Sea in 2030 to produce sufficient hydrogen. Shell and Tata Steel have also developed similar colossal plans.
Small-scale project
When it comes to the best ways to reduce greenhouse gas emissions, the focus quickly turns to wind turbines, solar panels, heat pumps and electric cars. But such solutions will have only a limited effect when you consider that the major producer of greenhouse gas emissions is industry: one-third of the total. And even though the production of electricity and the transport sector have set about tackling carbon reduction, industry is lagging behind. In 2018 and 2019, emissions in the electricity sector reduced by 13 per cent. In industry, the reduction was only 1.5 per cent.

Therefore, with its hydrogen burner, Nedmag can justifiably be called a pioneer. For now, however, it is on a relatively small scale. The hydrogen arrives by a lorry from the nearby Gasunie EnergyStock electrolyser near Zuidwending. If, however, Nedmag wanted to switch its current production completely to green hydrogen, it would require almost a quarter of a whole wind farm in the North Sea.

Although Bruning does not know how everything will ultimately take shape, he is aware of the limited options available. Nedmag's sinter magnesia is fired at 2,200 degrees. It is not possible to achieve that temperature with heat pumps or geothermal heating, not even with electric kilns. It is only possible with 'real' fire. If Bruning wants to realise this production process without fossil fuels, there are only two options available: biogas and green hydrogen. 'Biogas is available in this region, but not nearly enough for the whole production. That is why we opted for hydrogen.'

'The Climate Agreement requires us to reduce emissions by 50 per cent by 2030. We might be able to achieve a 30 per cent reduction by using biogas, but any more is unlikely. So ultimately we need to make other changes. We want to switch completely to hydrogen by 2035, which is actually quicker than what the government is asking. But if it all becomes a long-drawn-out process, nothing will really change.'
Climate friendly
However, Bruning also has another reason. With the energy transition just around the corner, he wants to be well-prepared. 'We are looking for products that require less energy and which produce higher added value. We already supply magnesium salts for compound animal feed and for the food industry, and we want to expand these areas significantly.' Bruning feels that it is increasingly important in these markets to demonstrate that you are producing climate-friendly products. And he expects the production of refractory bricks to decrease.

The replacement of the burner, in June, is a first step. It involves only a few per cent of the energy that Nedmag uses.
'We need to gain some experience, because you first need to walk before you can run. Hydrogen is at the beginning of its life cycle and it can take thirty years before the technology has fully developed.'
Nedmag does not operate alone. Together with other companies in the region, including Avebe and Smurfitt Kappa, it has formed a consortium to promote the development of the hydrogen economy. 'If there is enough demand for hydrogen, energy providers will also be more inclined to invest in it.'

With all the news about the increasingly extensive plans for implementing green hydrogen, you might think that the greening of industry will now really accelerate, but for the time being that is not the case. That makes Nedmag's drive to bring about change all the more exceptional.

This item is part of an article published in the Dutch newspaper "de Volkskrant". 
More information
Visit this page to learn more about testing hydrogen at our plant.