Wastewater treatment plants (WWTPs) must comply with strict European regulations. The Dutch government has obliged WWTPs to fully recover phosphorus from wastewater streams by 2030 at the latest, because phosphorus is at risk of being depleted. Magnesium hydroxide reacts with phosphorus in a controlled manner and makes it possible to recover phosphorus as struvite or from sludge ashes.
Phosphorus challenge
The removal of phosphorus is a challenge for many WWTPs. The regulatory discharge limits require the implementation of processes that convert soluble phosphorus into insoluble solids. The removal of phosphorus from wastewater can be achieved by chemical removal, advance biological treatment, or a combination of the two.
The chemical removal of phosphorus involves the addition of iron or aluminium salt to trigger phosphorus precipitation. These chemicals are expensive, increase the amount of inorganic waste, and cause operational side effects such as loss of alkalinity and corrosion. In addition, expensive polymers are used in sludge processing to optimise dewatering.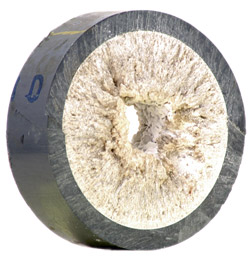 The presence of phosphorus causes uncontrolled struvite precipitation, which results in deposits in pipes and valves, in turn reducing their capacity and increasing maintenance costs (see image). 
Wastewater treatment with magnesium hydroxide
Adding magnesium hydroxide prevents scaling in water pipes by controlled struvite precipitation. The addition of magnesium hydroxide also has positive effects on sludge dewatering and the quality of the sludge. Because no chlorides are dosed, magnesium hydroxide prevents corrosion. Besides binding and recovering phosphorus, magnesium hydroxide is also very suitable for pH neutralisation and the removal of metals from waste streams.

Nedmag produces magnesium hydroxide as a stable suspension. The product is environmentally friendly, safe to use, and non-corrosive. Read this article for more information on environmentally friendly wastewater treatment with magnesium hydroxide.
More information
A 10 to 20% reduction of water content in sludge;
Reduced chemical use (iron or aluminium salt), up to 100%; 
Reduced polymer use, up to 25%
Reduced energy costs (aeration);
Reduced maintenance costs due to controlled struvite precipitation;
Future sales opportunities for struvite. 
Product knowledge, support from the lab/R&D, and continuous practical learning form the basis for Nedmag's knowledge of these applications.
Would you like to collaborate with us on sustainable and innovative products?
Become our partner
Any questions or would you like to cooperate with us? Please contact us!
Customer service